The first book in my new college sports romance series, The Assist, is now available. Keep reading for an exclusive excerpt.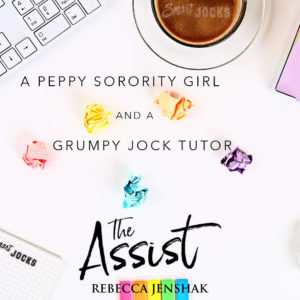 "Rise and shine," Joel says as he nudges me. I'm not asleep. I wish I were. My eyes are closed, hat pulled down, but there's no sleep to be had.
"She's coming back for more." The tone in his voice is almost inspired.
I don't have to look up to know who he's talking about, but I do anyway. She's the most entertaining thing about this class. Open my eyes and lift the hat, turn it backward so my view isn't the least bit blocked.
Today she's wearing little pink shorts that show off tan legs, yellow tennis shoes that don't match but somehow work, and a bracelet with a little charm around her left ankle. It's too small to make out, but I stare anyway. Her brown hair is pulled up in a high ponytail, and she has a megawatt smile plastered on her face. A big bow on top of her head is all she'd need to look like head cheerleader of my high school fantasies.
"Wes, hey, can I talk to you for a second?"
"What's up?"
I'm hella impressed by the balls on this chick. She's put her foot in her mouth, not once, but twice, and damn near insulted the entire student athlete population, but she keeps coming back. She has determination and grit. I admire that about her.
I also am not in the least bit offended by her assumption that I'm a dumb jock. I'd be lying if I said I wasn't surprised she came right out and asked who my tutor was, but I know exactly what it looks like. I've fed into the stereotype for years, doing nothing to make it seem otherwise. Well, nothing but get straight A's.
"I have sort of a favor."
"What's up?" I stand to walk with her out of the class.
"The tutor center was a bust. I know you said . . ." She looks like she's choosing her words carefully. "Do you have old study notes or tests from previous semesters?"
"Still convinced I'm not capable of passing on my own, huh?"
"I'm sorry, really, no offense. I just want in on whatever study materials you're using. I can't afford to fail another test. What's your secret?"
The secret? I'm fucking smart. Photographic memory smart and statistics is my whole world, but I can't resist messing with her.
"You know, saying no offense doesn't make whatever you're saying less offensive. It just makes you feel better about saying something offensive."
Joel snickers behind me. I just can't resist fucking with her. She's making it too easy.
"Sorry. I'm really so sorry. What about the other guys on the team? Anyone have any awesome math tutors who aren't available to us non-jock students? I can pay."
"Couldn't say for sure, but I don't think so. Most the guys hold their own academically." I lean in catching a whiff of her hair. It smells good—like sugar cookies or candy canes or something sugary sweet that I want to sink my teeth into. "Shocking, I know."
Her shoulders slump in defeat, and I can tell she's finally accepted that I have no answers for her. At this point, I almost wish I knew of someone to send her to. I don't exactly travel in circles that clue me in on secret study sessions and underground tutor societies.
"Thanks anyway." She gives a little wave with the hand clutched around the strap of her backpack.
Joel catches up to me, and we watch as she crosses the campus toward the library. "Dude. That chick . . ."
"I know," I say, and we continue to stare after her completely awe stricken.
"Quit gawking after the poor girl and let's go. I'm hungry." Z's voice pulls at me just as Blair disappears from sight.
When I turn, Z's grinning like he heard the entire exchange, despite the fact he has his headphones on. Sometimes I wonder if he even has music playing or if he just uses them as a deterrent. I don't have the heart to break it to him that he's intimidating as fuck and probably doesn't need another reason for people not to engage.
Back at the house we sit around the television watching ESPN and devouring the chicken pasta shit that Joel's mom dropped off earlier. She has taken it upon herself to keep us fed and our pantry stocked. Several times a week we come home to find casseroles in our fridge, index cards with cooking instructions taped to the top of the tin foil.
"Why do girls insist on using eight emojis for every text?" Joel asks without looking up from his phone. His fingers tap at top speed on the damn thing.
"I dunno," Nathan says from the floor. He's alternating sets of push-ups and sit-ups. That's Nathan for you. One minute, he's cramming nicotine and alcohol in his system, and the next, he's doing bonus workouts. I guess it evens itself out. "It's up there with using text slang when it isn't any shorter. Using the number two in place of the word to saves what? Like a half second?"
"I deduct two IQ points for every text acronym or abbreviation," I say around a mouthful of pasta.
"This is why you haven't gotten laid in six months," Joel quips, still not looking up.
"Fuck you. It hasn't been that long."
Close.
I've been busy.
Busy sulking. First a soul crushing loss to end last season and then an injury that's kept me sidelined.
And I'm real tired of girls throwing themselves at me for the thrill of sleeping with a jock. Or in some sort of misplaced show of support to heal my fragile ego. Pity fuck? No thanks.
I know, I know. I got uptown problems.
"What happened to Sarah?" Nathan says as he stands and starts to jog in place.
"It was Tara, and last time I saw her, she was giving a big Valley welcome to a freshman soccer player."
Joel looks up. "God bless her dedication. She's single-handedly welcomed nearly every jock to campus in her short time here."
"Yeah, she's a real Mother Teresa." Z rolls his eyes. He's adamant about not messing around with girls in college so he can focus on ball and his quest to the NBA, so he thinks we're all petty assholes.
He isn't wrong.
Purchase Now:
Amazon US: https://amzn.to/2SHTzCu
Amazon UK: https://amzn.to/2RrjYD0
Amazon AU: https://amzn.to/2qqypMg
Amazon CA: https://amzn.to/2yP8OB5